Speed Up Your Website by 40% With Hostinger CDN – Now Out of Beta
Ask any website owner, and they'll agree – the speed and performance of your website play a vital role in achieving online success. Slow-loading websites not only frustrate visitors but also result in abandoned carts, fewer sales, and an increased bounce rate, hindering your search engine rankings and overall growth.
To help you deliver the best possible user experience, Hostinger is thrilled to announce that our Content Delivery Network (CDN) is now out of beta, ready to revolutionize your website's performance. Extensive testing of over 10,000 websites has revealed that Hostinger CDN can enhance website performance by up to 40%. And the best part? Enabling this feature requires no development or configuration efforts on your part.
An In-Depth Look at the Testing Results
Our in-house team of experts ran over 42,000 tests on more than 10,500 websites to gain accurate insights into how our CDN affects site performance. And the results are nothing short of impressive. Websites utilizing Hostinger CDN showcased significant improvements across various performance metrics, optimizing website load times and elevating the overall user experience.
The most notable improvement was observed in the Speed ​​Index metric, with median and average values ​​experiencing an impressive drop of 42% and 37%, respectively. This means your website will load faster than ever before – we're talking milliseconds, ensuring a seamless and great browsing experience for your visitors.
We also witnessed substantial enhancements in other key metrics. The Largest Contentful Paint (one of the three Core Web Vitals) and Total Blocking Time metrics, directly influencing website load times, demonstrated significant improvements with the CDN implementation.
Our testing data indisputably demonstrates the positive impact of Hostinger CDN on website performance. By harnessing the power of our CDN, you can enhance website performance, elevate user experience, and ultimately drive more traffic and conversions to your site.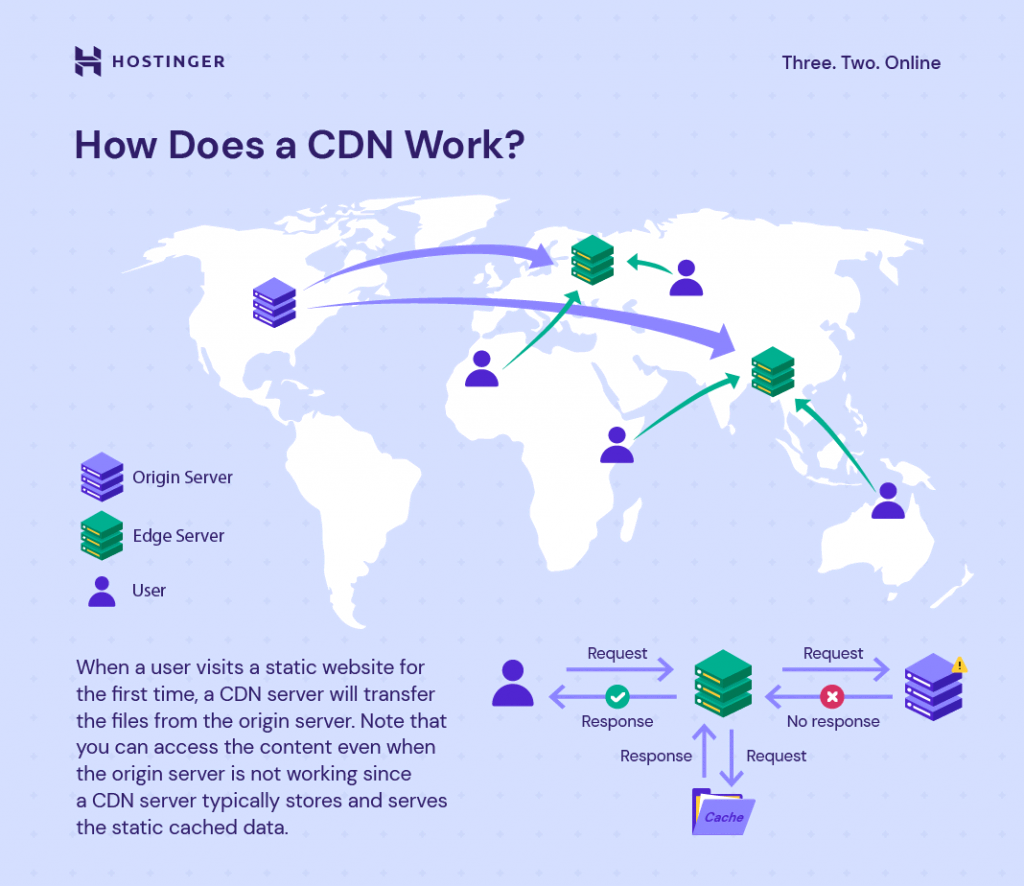 Hostinger CDN Availability
To provide a seamless global experience for our customers, Hostinger CDN is now available in the following server locations:
United Kingdom
France
United States
Singapore
Brazil
India
With our network of strategically located CDN servers worldwide, your website content will be delivered swiftly to your audience, regardless of their geographical location.
Who Benefits From Hostinger CDN?
Hostinger CDN is tailored to benefit businesses of all sizes, regardless of whether you operate an eCommerce platform, manage a media outlet, or have a high-traffic website with a global audience.
We understand the critical importance of every millisecond when it comes to delivering content to your visitors. That's why we have seamlessly integrated our CDN into the following hosting plans:
Business Web Hosting
Business WordPress
WordPress Pro
All cloud hosting plans
If you currently have a Single, Starter, or Premium hosting plan, don't worry – you can upgrade your plan directly on hPanel and start using Hostinger CDN.
You'll get all this:
Static website caching. Your static web content will be automatically cached across all edge servers, reducing the origin server's load and improving site speed.
CDN bypass mode and cache purging. These features can disable and flush the cache that's been previously delivering your content. As a result, whenever you make changes in development mode, visitors can see them right away.
CSS and JavaScript minification. Remove redundancies in your code to reduce your website file size and enhance speed.
Data center rerouting. If your CDN data center is experiencing issues, the system will automatically disable it and redirect your site's traffic to other data centers. No need to worry about downtime.
Built-in website security. Our CDN comes with DDoS mitigation, SSL/TLS encryption, and a web application firewall by default to protect your site against malicious attacks. Both your and your visitors' data will be safe.
Attain the coveted 90-100 Score Zone
Are you ready to boost your site performance by up to 40% today, with zero effort?
Sign up for one of our hosting plans that include Hostinger CDN, or upgrade your existing plan on hPanel. With Hostinger CDN, you can enjoy the power of lightning-fast load times, improved performance scores, and optimized Core Web Vitals – all included in the price of your hosting plan.
Source link