TLD Trends for 2022 and Beyond
As a hosting provider and domain registrar, Hostinger aims to help online business owners and independent contractors succeed with their websites.
Choosing a domain name is very important when building your online presence. Besides serving as an address for users to visit your site, it's also an essential branding element, shaping how your target audience sees your business.
That's why we've identified the most significant trends and developments in the domain name industry. We'll cover which top-level domains (TLDs) are most popular and which ones are emerging.
Most importantly, we'll answer whether it is essential to have a .com URL for your website.
Table of Contents
Research has shown that .com remains the strongest contender among all TLDs.
As of June 2022, 52.8% of the internet use .com domains – far more than other generic top-level domains (gTLDs). For comparison, .orgwhich is the second most popular gTLD, only makes up around 4.4% of all registered domain names.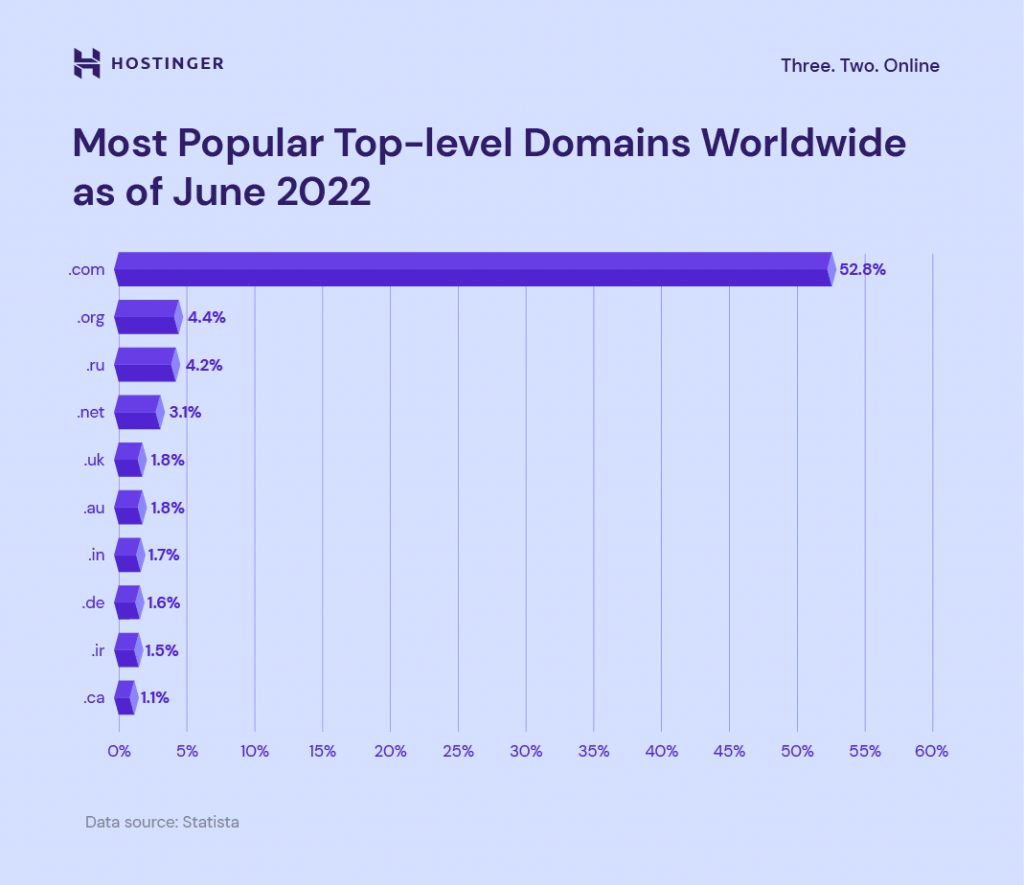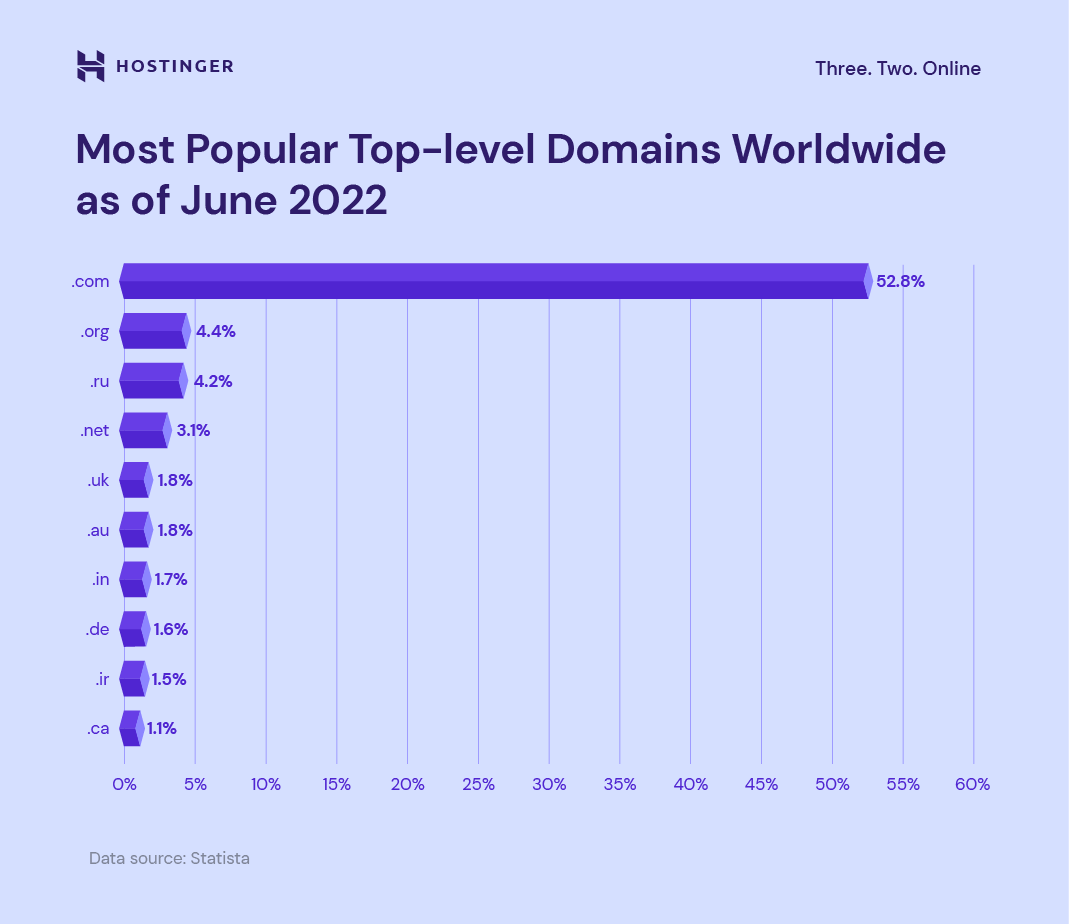 To better illustrate the massive market, Verisign reports that over 161.3 million .com domain names have been registered as of the first quarter of 2022. That's more than eight times the number of domains using .cnChina's country-code top-level domain (ccTLD).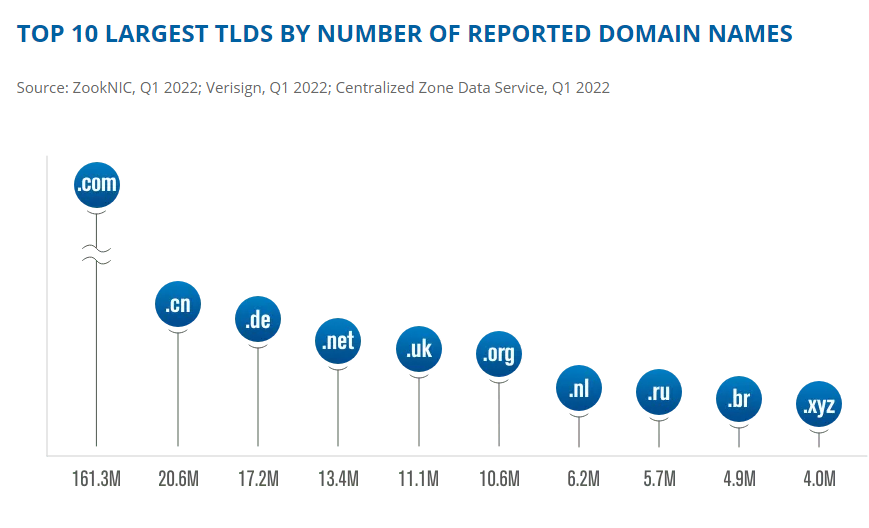 .com itself stands for commercial, as it is intended to represent business entities.
That said, according to Dataprovider.com, 33% of websites that use .com domains are content publications. The second largest share belongs to business sites at 24%, while eCommerce stores account for 4%.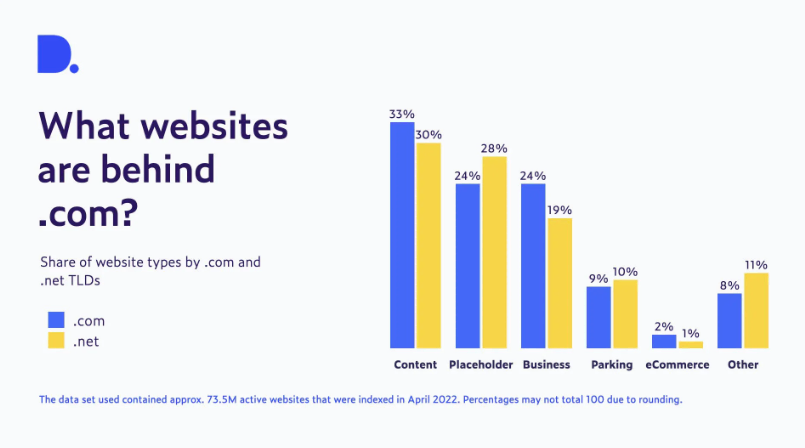 According to InternetX's 2022 Global Domain Report, legacy gTLDs like .com, .net, .org, .bizand .info make up more than half of all registered domains on the world wide web.
While these older domain extensions dominate the industry, new gTLDs are expanding the TLD market.
Our data reveals that .online and .xyz are two of the most registered top-level domains at Hostinger after .com. This trend has been consistent since August 2021.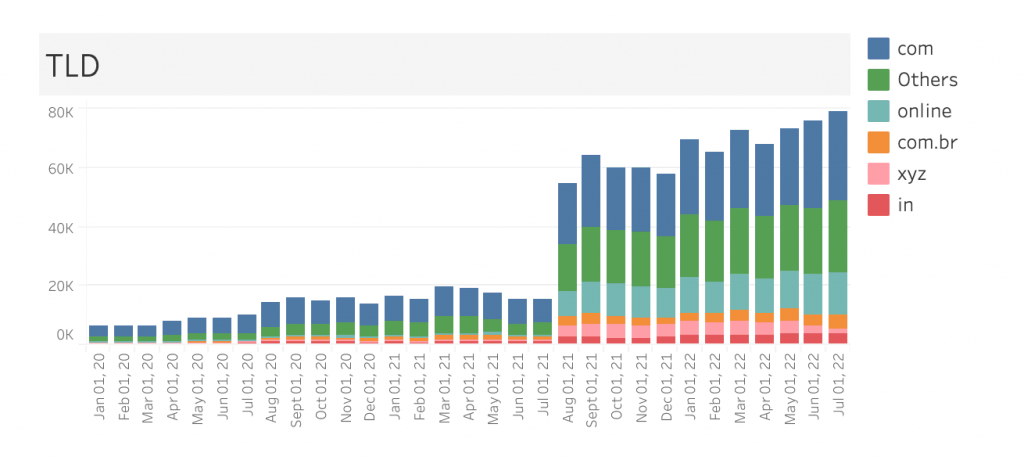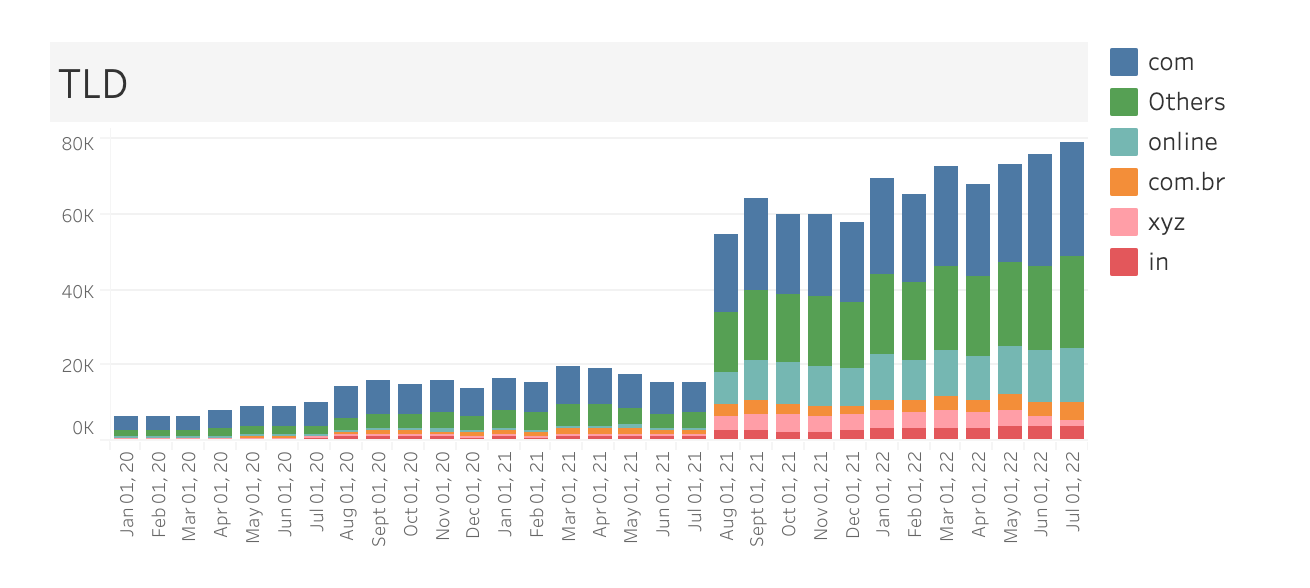 At the beginning of 2022, all new gTLDs made up around 7.5% of all websites. Today, .xyz is leading the pack with over 4.8 million registered domains.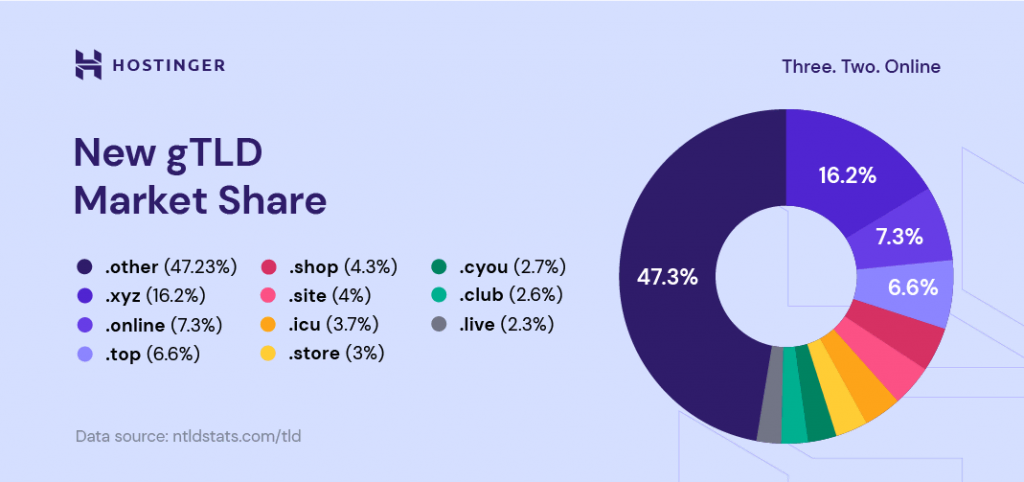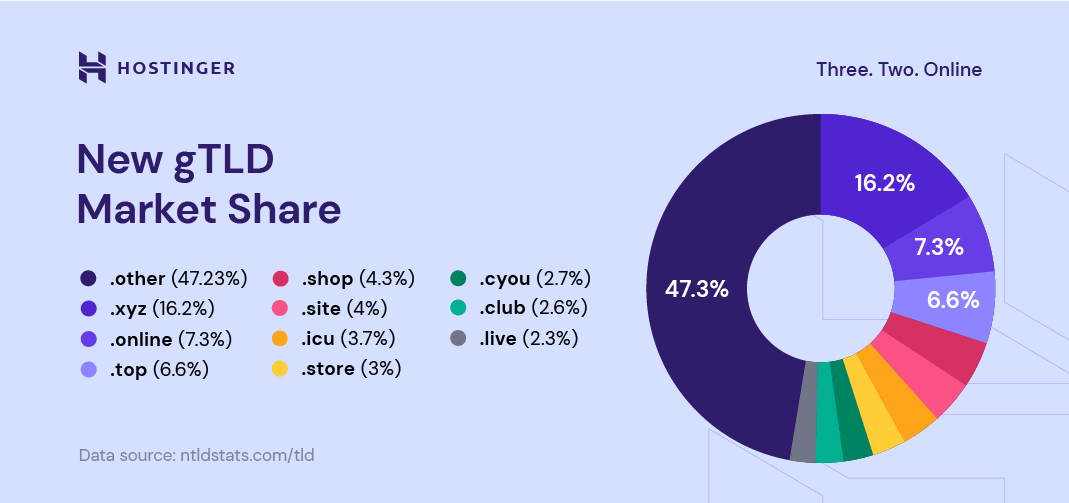 Although the combined market share of all new gTLDs is small in comparison .comnewer gTLDs have a much more significant year-on-year growth.
For instance, .xyz registrations rose 23.5% last year, whereas .shop saw a 31.4%. growth Contrast this to .comwhich only grew by 4.5%.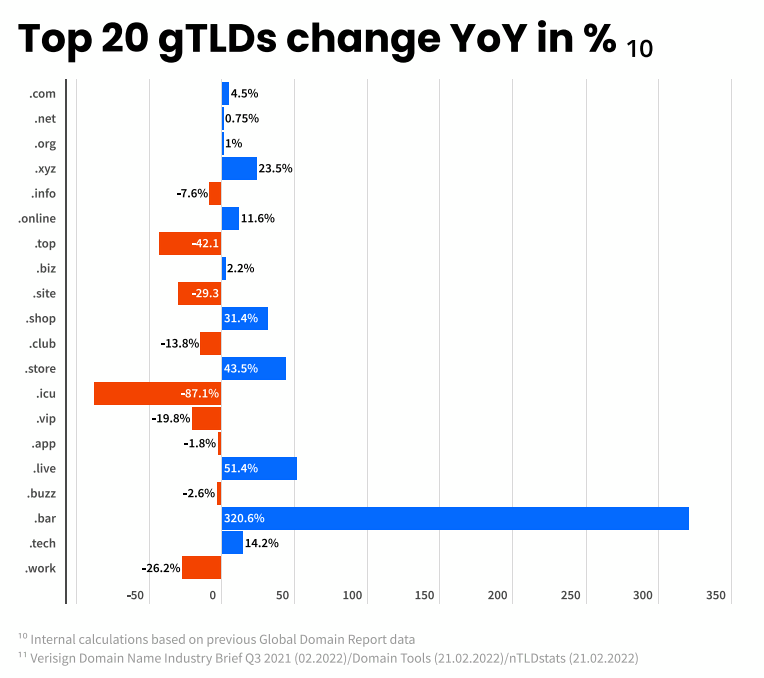 All of this reveals a vital trend – while .com is still the market leader, the number of available and attractive domain names with this ending is running out. This has led website owners to look for alternative gTLDs.
The Growth of ccTLDs and geoTLDs
A country-code top-level domain (ccTLD) represents a country code, like how .us signifies the United States. It's a popular alternative if you're building an online presence in a specific region or your desired .com domain name is unavailable.
As of June 2022, the most popular ccTLD was .tk for Tokelau, with over 26 million registered domains. Interestingly, the island only has a population of less than fifteen hundred.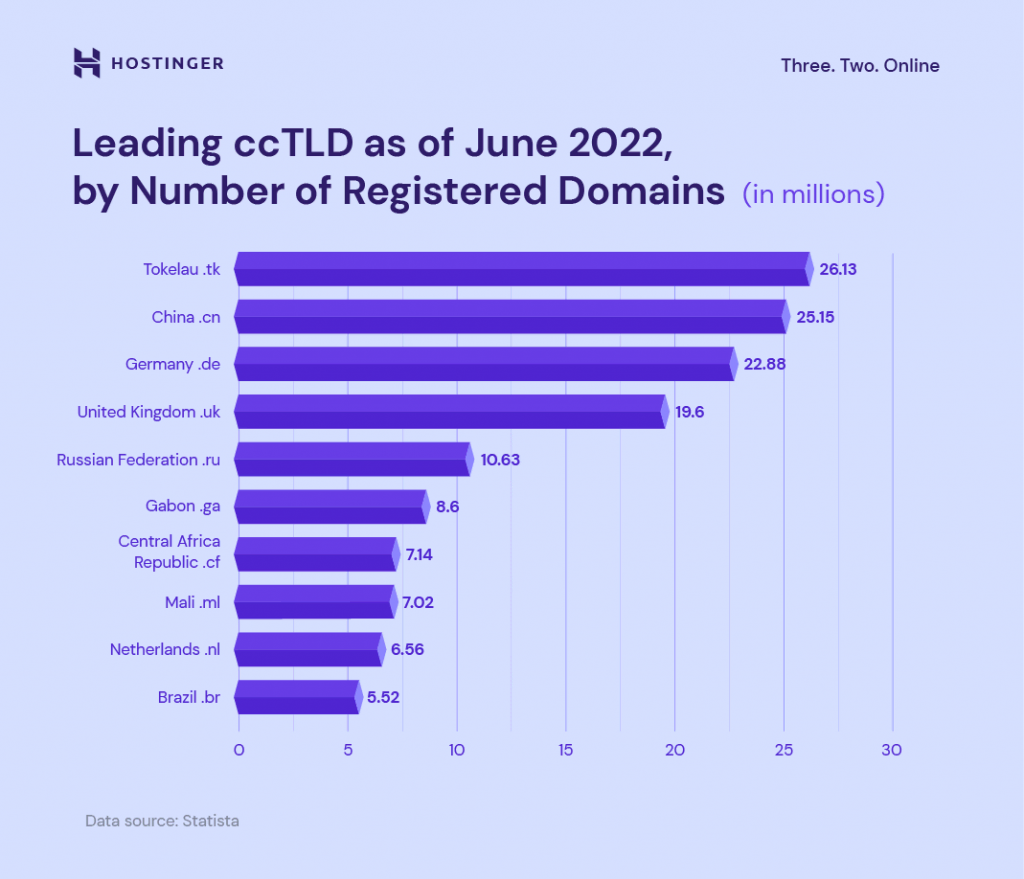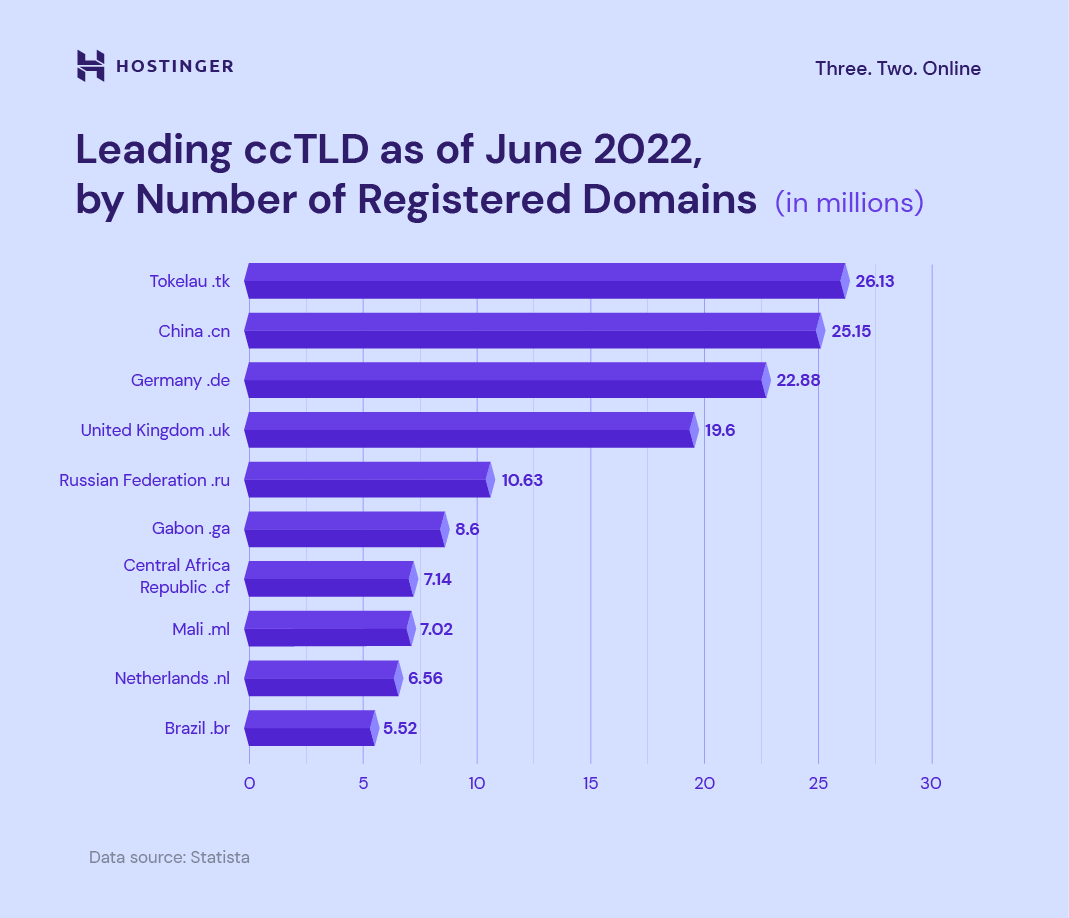 The rest of the domain extensions that top the list are from Europe, like .de, .uk, .ruand .nl. This trend signifies the prevalence of ccTLDs in the continent compared to the rest of the world – so much so that they account for 61% of domain registrations in the region.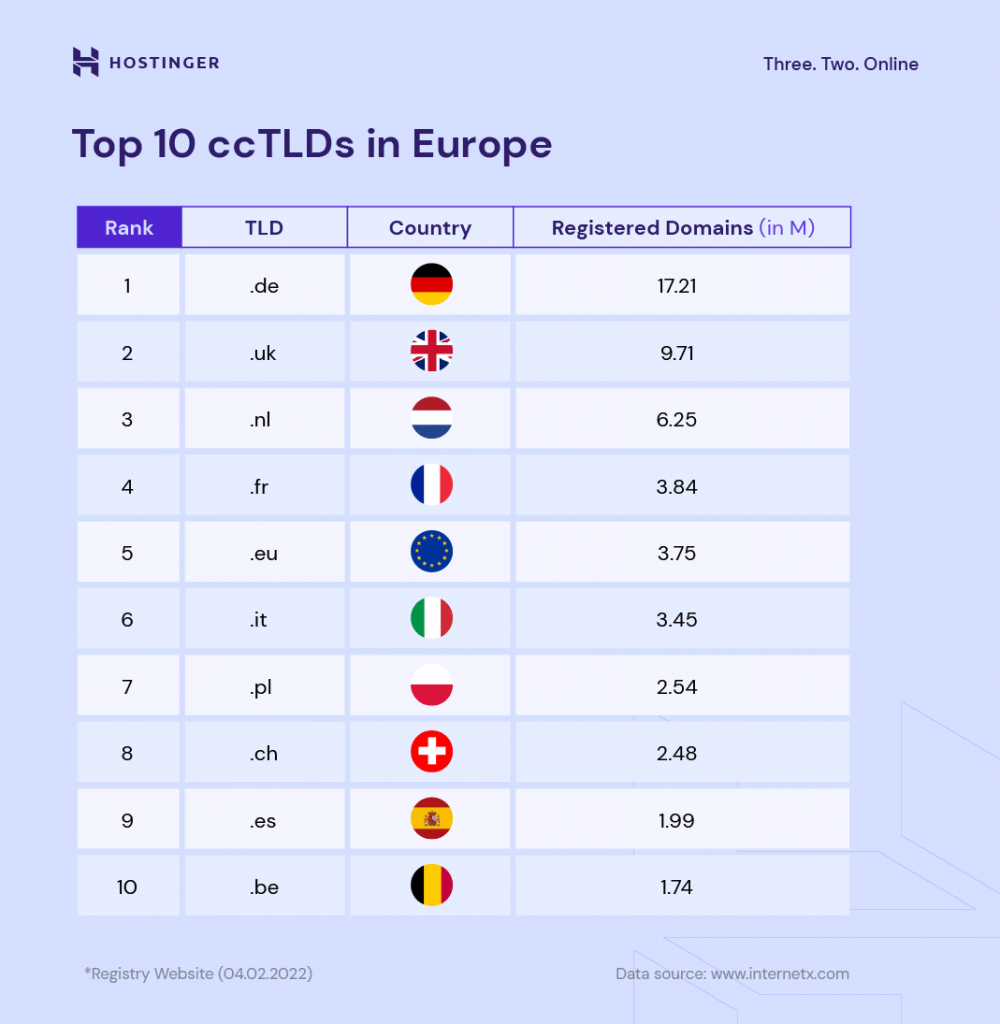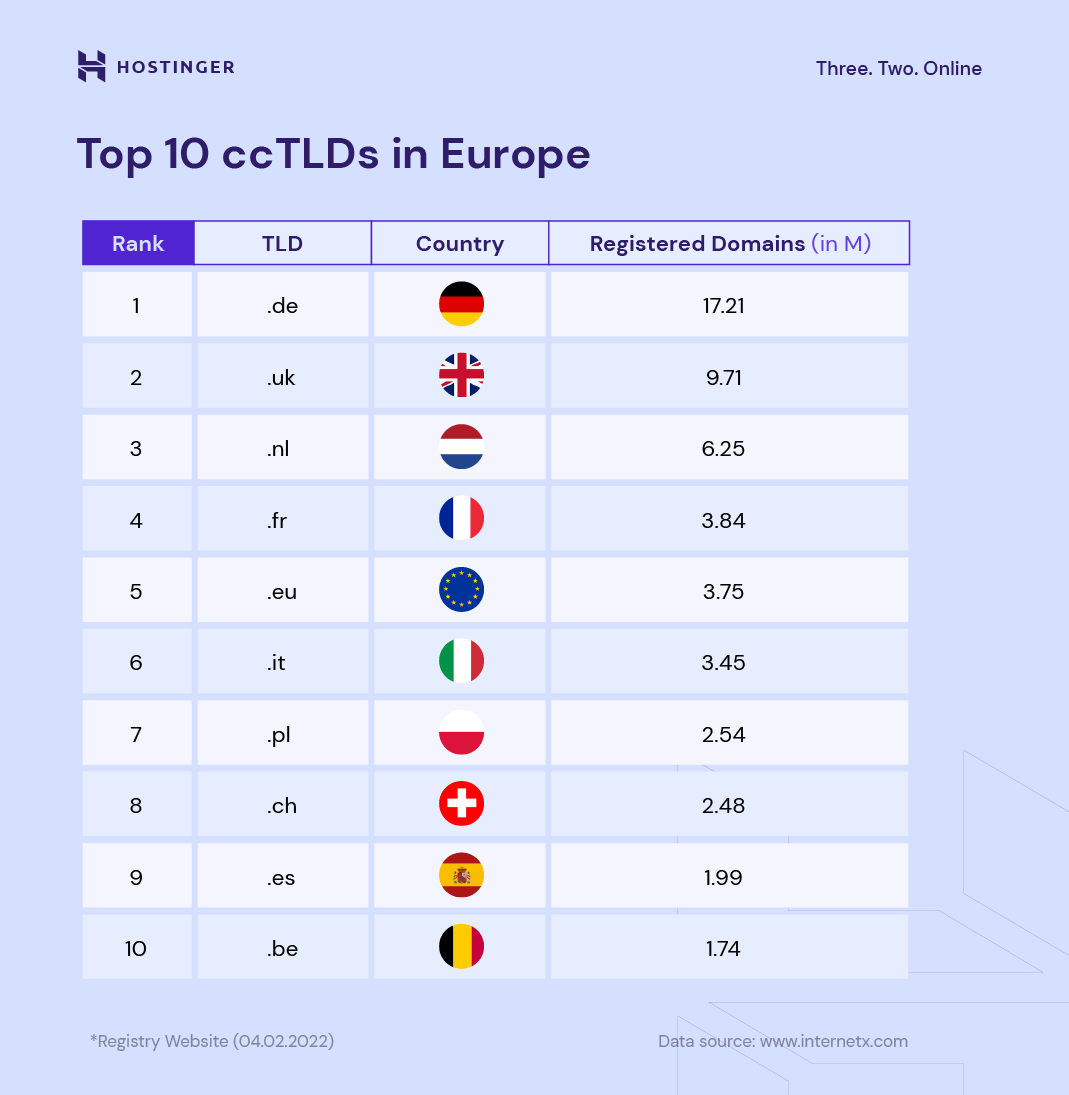 Although ccTLDs are intended to denote a specific country, many of them have grown beyond their original function. For instance, .iothe domain extension for British Indian Ocean Territory, has become popular among tech companies.
.co, which stands for Colombia, is a widely-used .com alternative. In fact, the sales volume for .co domains has doubled during the pandemic, starting from $800,000 in 2020 to almost $1.5 million in 2021.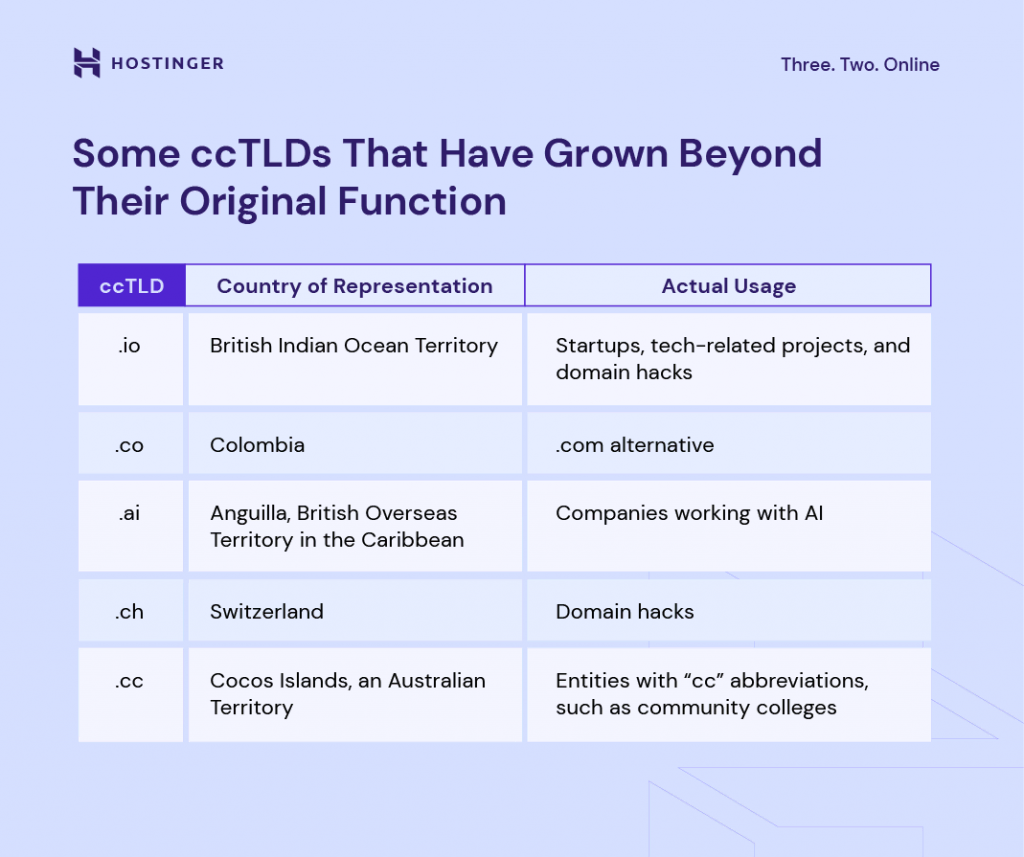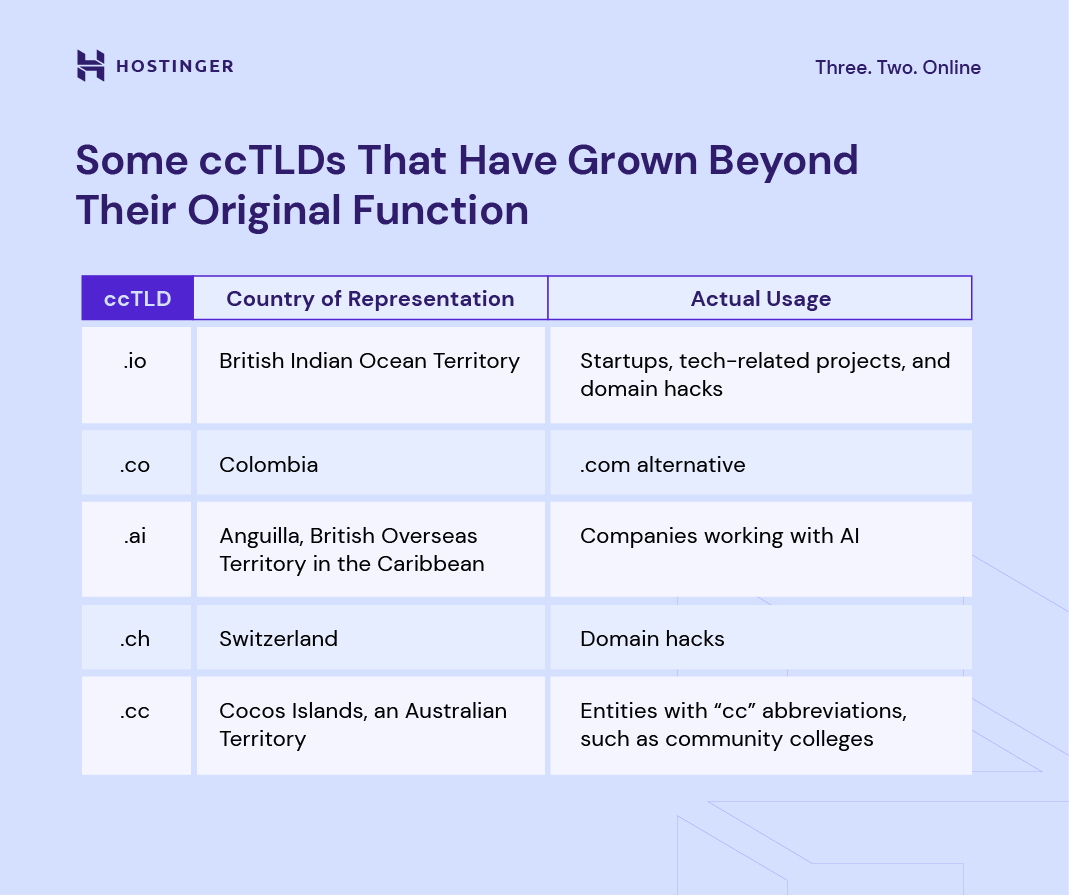 In recent years, we've also seen a rise in geoTLDs – a category of domain extensions linked with geographical or cultural communities.
Some examples are cityTLDs, like .tokyo, .nyc, .berlinand .london. They're ideal for small businesses and establishments that want to build their brand and attract customers in the area. Reportedly, Japan has the largest share of business and eCommerce sites that use cityTLDs.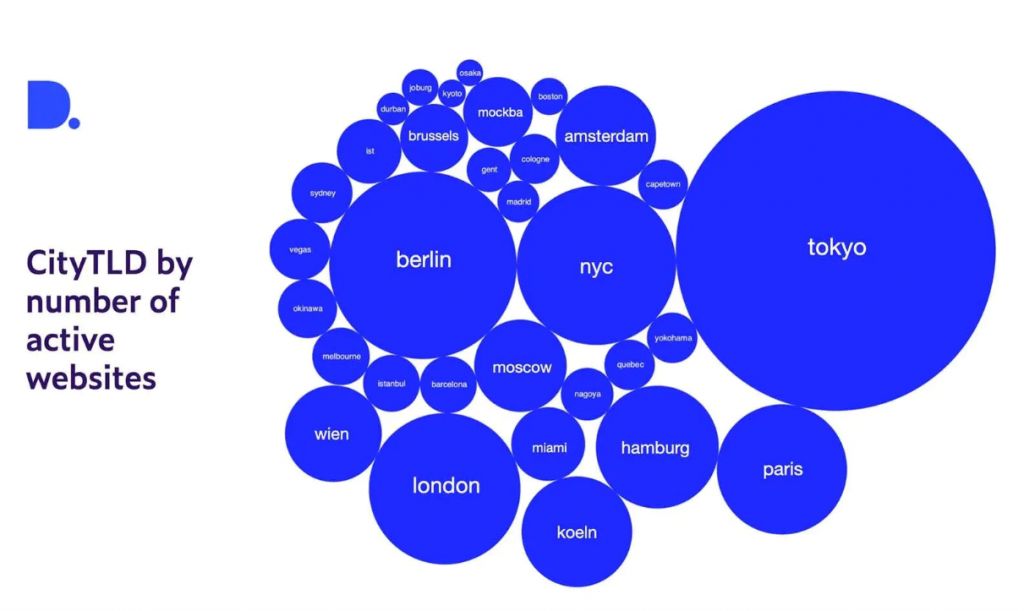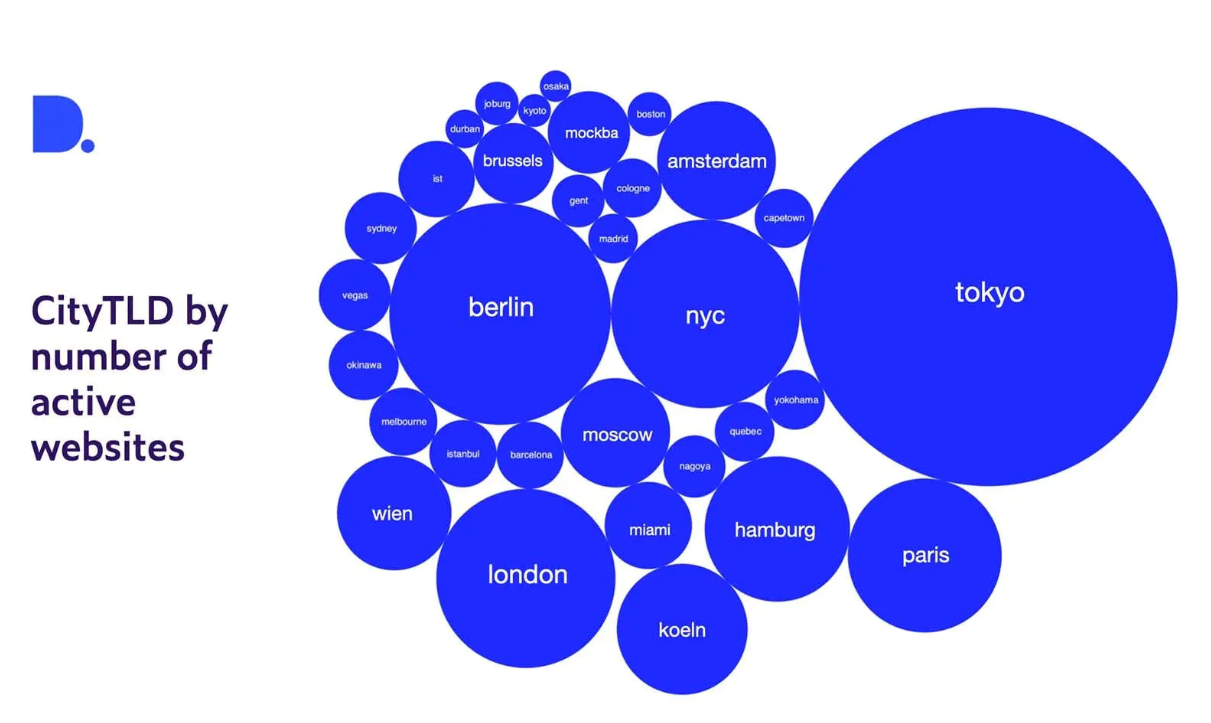 How Crucial Is a .com Domain?
In our buying a domain name tutorial, we explain that the right name could boost brand awareness, establish visitor trust, and make it easier to find you online.
Choosing a TLD that is short, easy to remember, and relevant to your niche will help you achieve these goals.
From a memorability standpoint, .com has become top-of-mind. Growth Badger's survey results show that users can recall .com domains 44% more correctly than those with other TLDs. .co is second most memorable at 33%with .org trailing at 32%.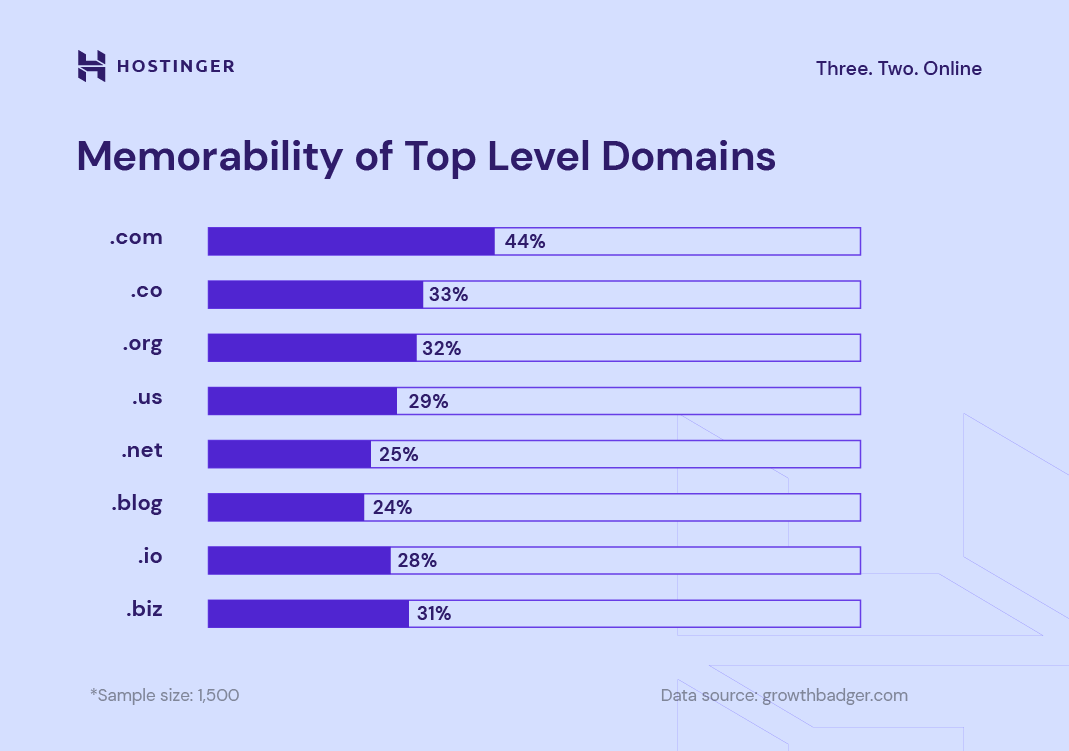 When it comes to credibility,com wins with a rating of 3.5 on a scale of 1 to 5. .co andorg are again second and third, rated 3.4 and 3.3, respectively.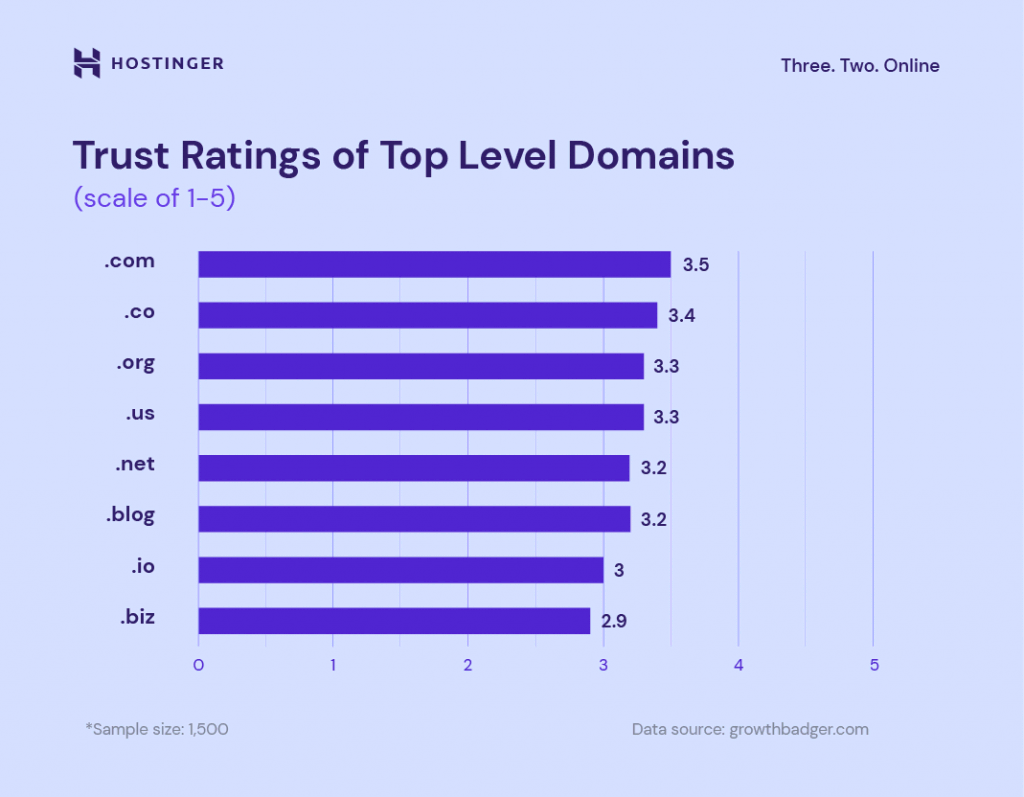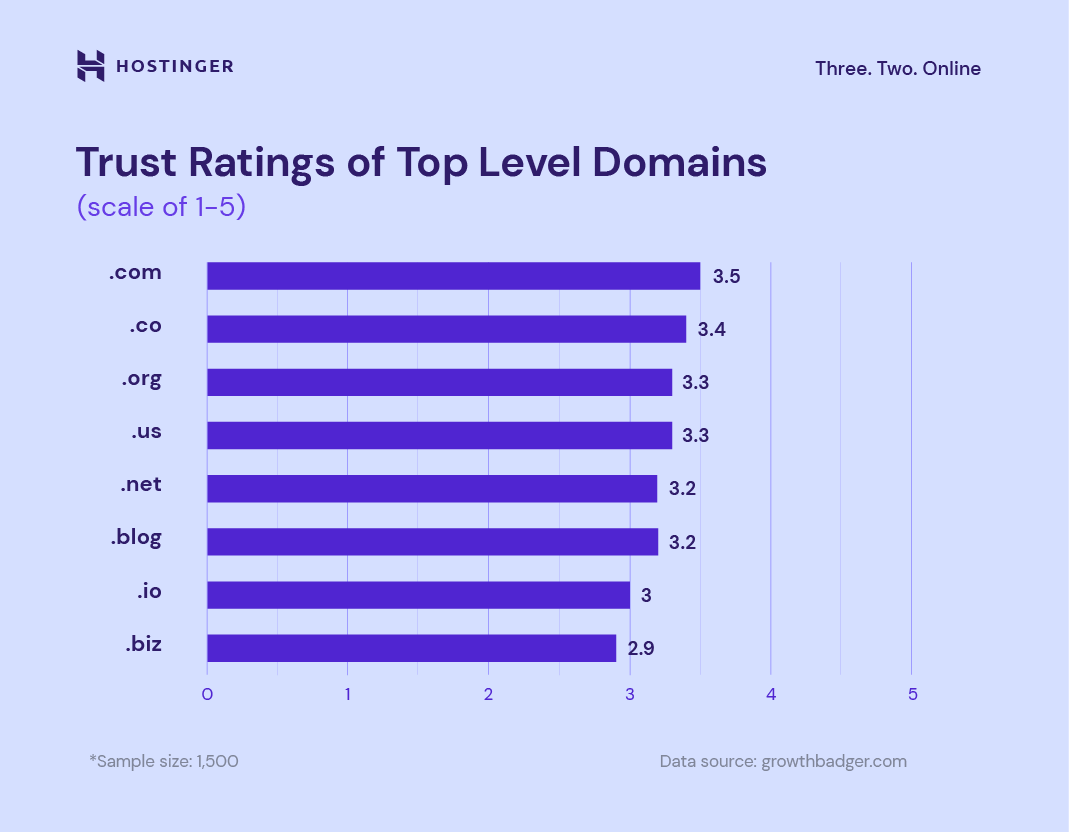 It's clear that .com still immensely helps to establish a credible online presence. It's concise, familiar, and highly versatile – virtually any website can use it.
That said, a .com domain is pricier – it starts at around $8.99/year. This is much more expensive than newer gTLDs, costing as little as $0.99/year. .com prices are going to increase by almost 7%, too, due to recent agreements between the US government and Verisign.
Paired with the fact that the .com market has become highly competitive, aspiring website owners will have to consider buying domain name alternatives.
Use domain name generators. They can come up with multiple name options that sound close to the one you want the most.
Secondly, consider buying other TLDs. If you want the same level of familiarity as .com and don't mind paying more, .net is a good choice. Otherwise, try new gTLDs like .xyz, .online, and .site, which are cheaper but just as versatile.
More TLD Trends to Watch Out For
Here are some other trends that may rock the domain industry in the near future:
Based on Sedo's top searched keywords in 2022, terms related to NFT, cryptocurrency, and the Metaverse are highly popular. Since these industries may keep getting bigger, we can expect to see this trend continue.
Google Registry released the .day TLD in early 2022 to celebrate national holidays and raise awareness of important issues. Many large organizations have registered a .day domain for their causes, like Comic Relief for rednose.day.
Since March 2022, Australia's ccTLD .au has been available to register as a direct domain name – such as example.au. Previously, users could only purchase it as a second-level domain. Only people with verified connections with the country could own this TLD.
Key Takeaways
When choosing a domain ending, think about your website's long-term goals.
Getting a .com domain may be worth it if you plan to grow your business in the future.
For the new gTLDs, competing with .com will be tough. On the other hand, they are a great way to establish a unique identity. Furthermore, with .com domains running low, it's safe to say people will gradually become more familiar with these domain endings.
ICANN published a report on gTLD application procedures, stirring rumors that they will open submissions for new domain extensions soon.
In any case, we can expect to see even more domain endings for various niches down the line. While they may not have a significant domain market share, they have the potential to become major players in the internet landscape of the future.
Source link