WordPress AI Troubleshooter Detects and Fixes Website Errors
Tuesday November 14, 2023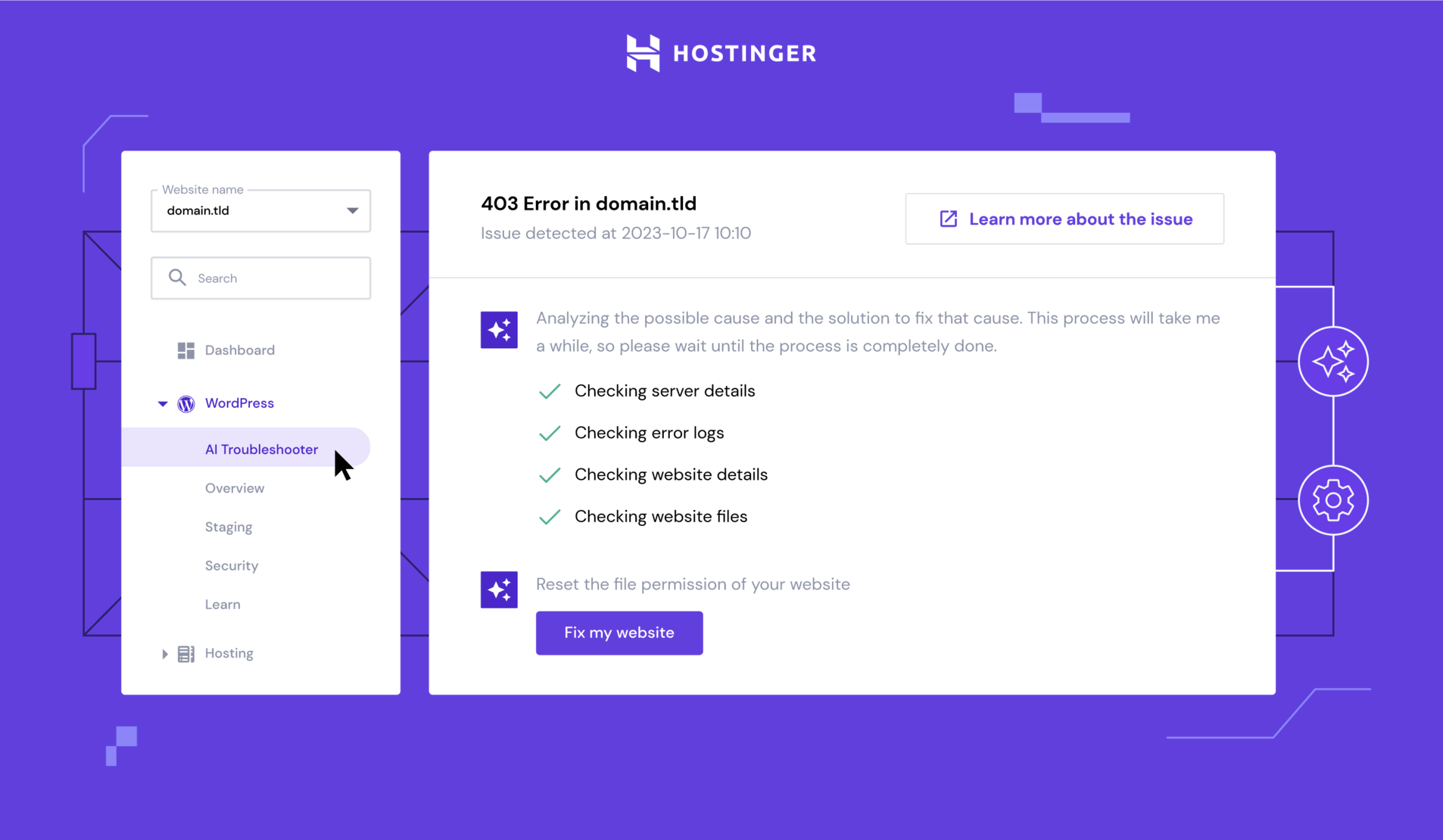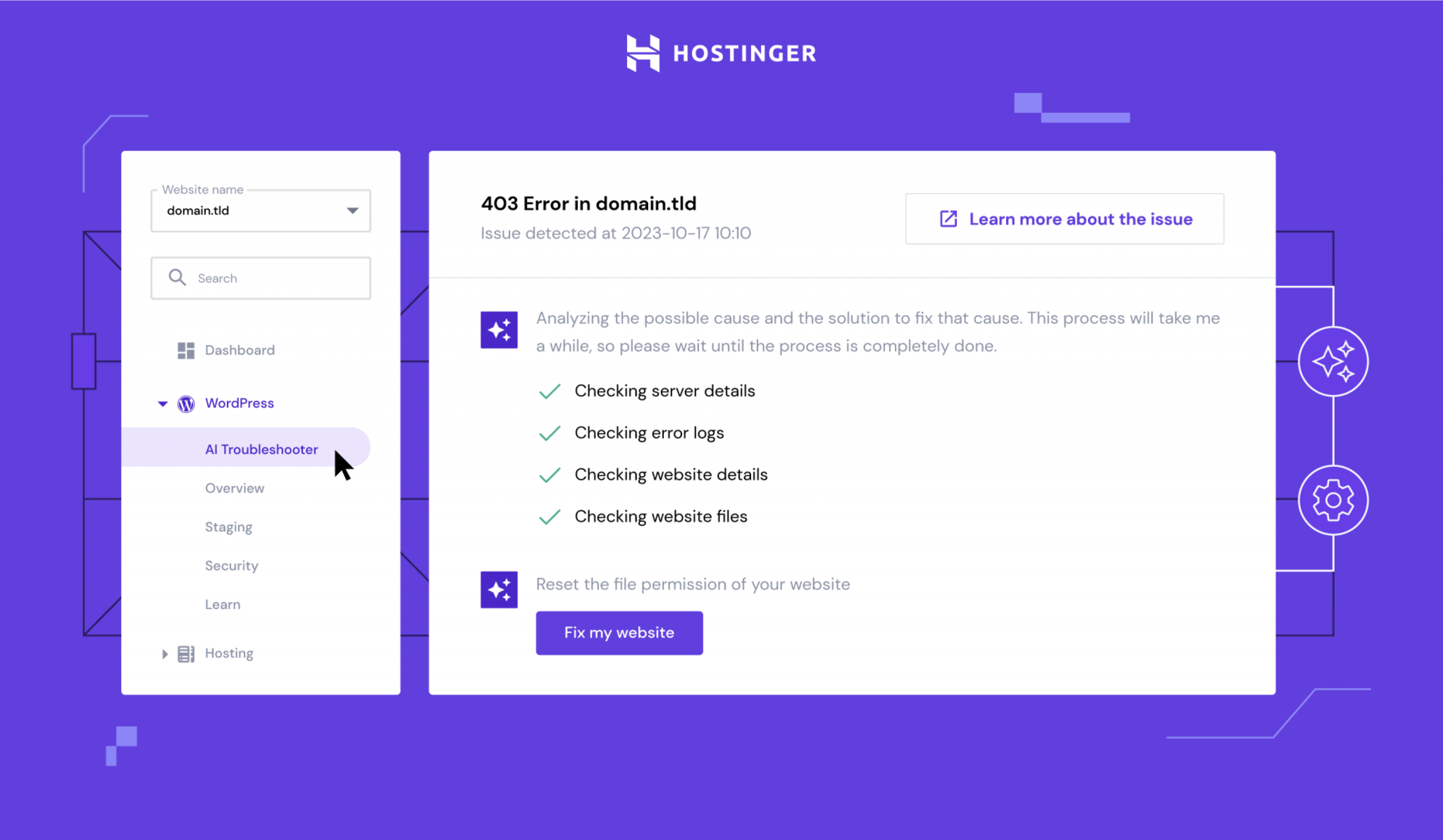 Even a few minutes of website downtime can result in lost revenue and frustrated customers.
With over three million WordPress installations at Hostinger, we strive to ensure your sites are always online. Leveraging the power of AI, we've developed a unique tool in the market: WordPress AI Troubleshooter. It detects and fixes website errors for all Managed WordPress hosting clients at Hostinger.
Let's dig deeper into what WordPress AI Troubleshooter is, how it works, and what problems the tool can solve.
WordPress AI Troubleshooter automatically detects when any WordPress website hosted at Hostinger experiences errors such as 403, 404, 500, 503, and "There has been a critical error on your website" message. Note that the tool only catches the most critical errors that affect the entire website, not just specific sections or individual pages.
The tool then notifies you that it found an error and offers a solution. You will find this information on the Website Dashboard in Members Area.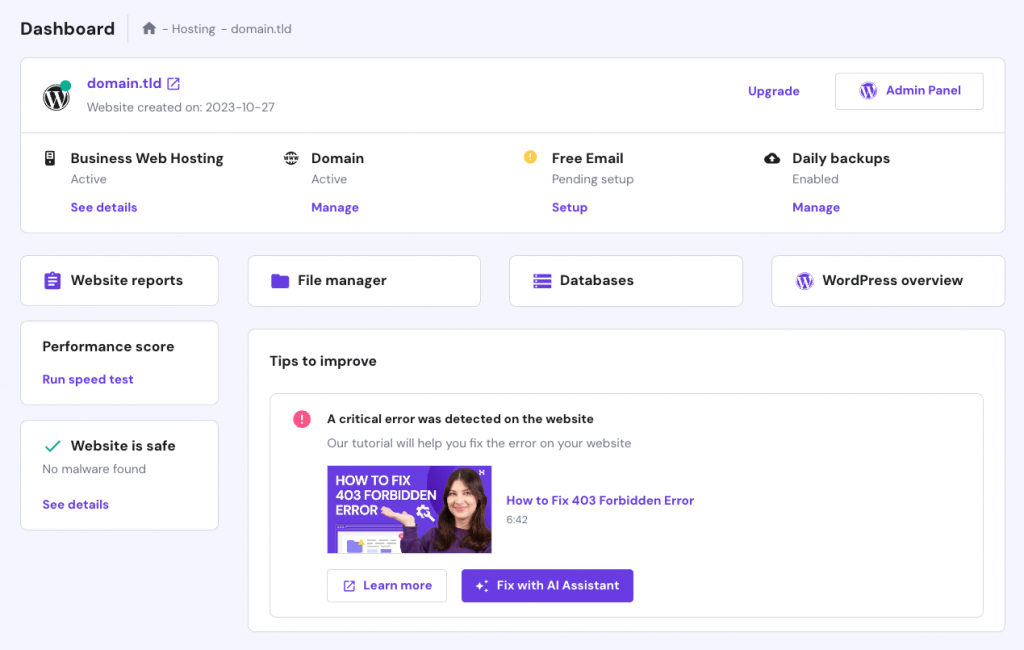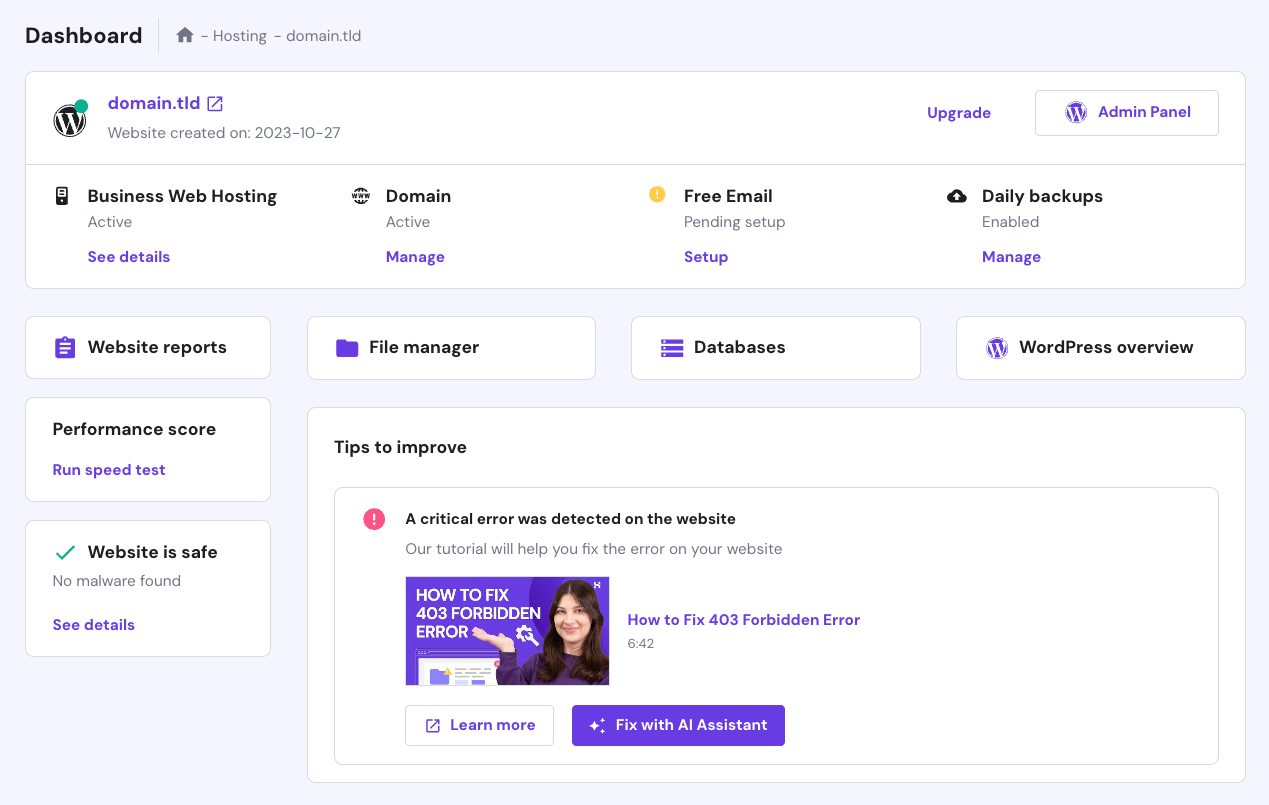 You can watch a dedicated tutorial video, read an article about the error and try to solve it yourself, or, even better, fix it with AI.
The latter option leads you to WordPress AI Troubleshooter. It will analyze your site by checking server and website details, error logs, and files. In moments, the tool will offer a solution you can apply in one click.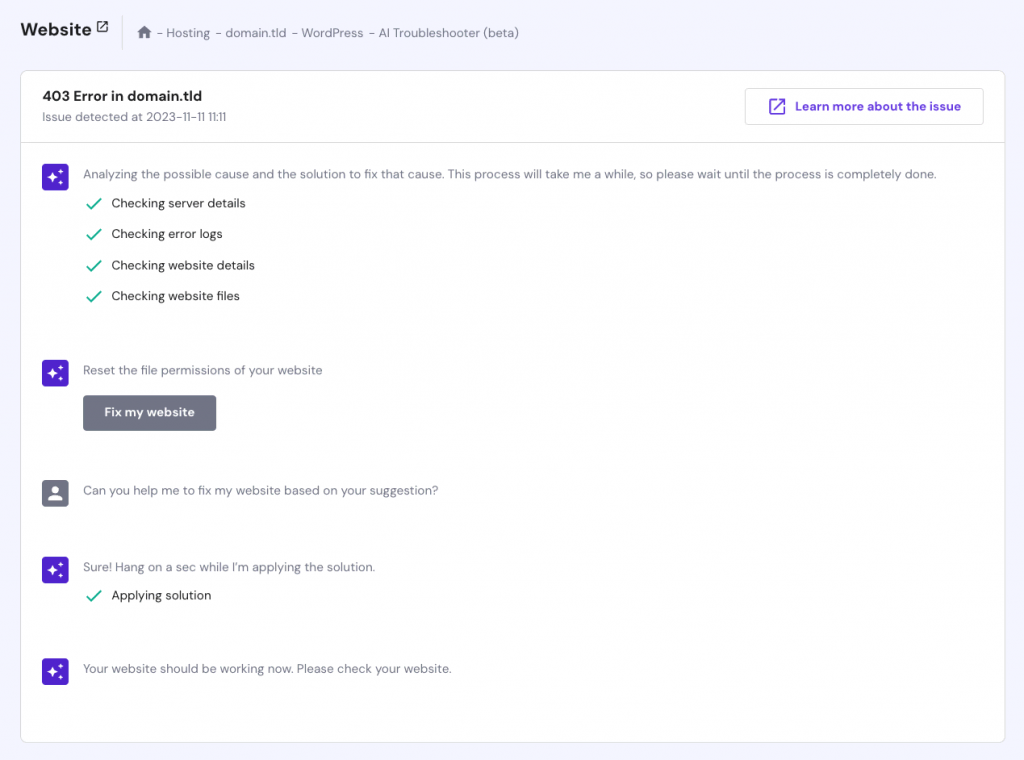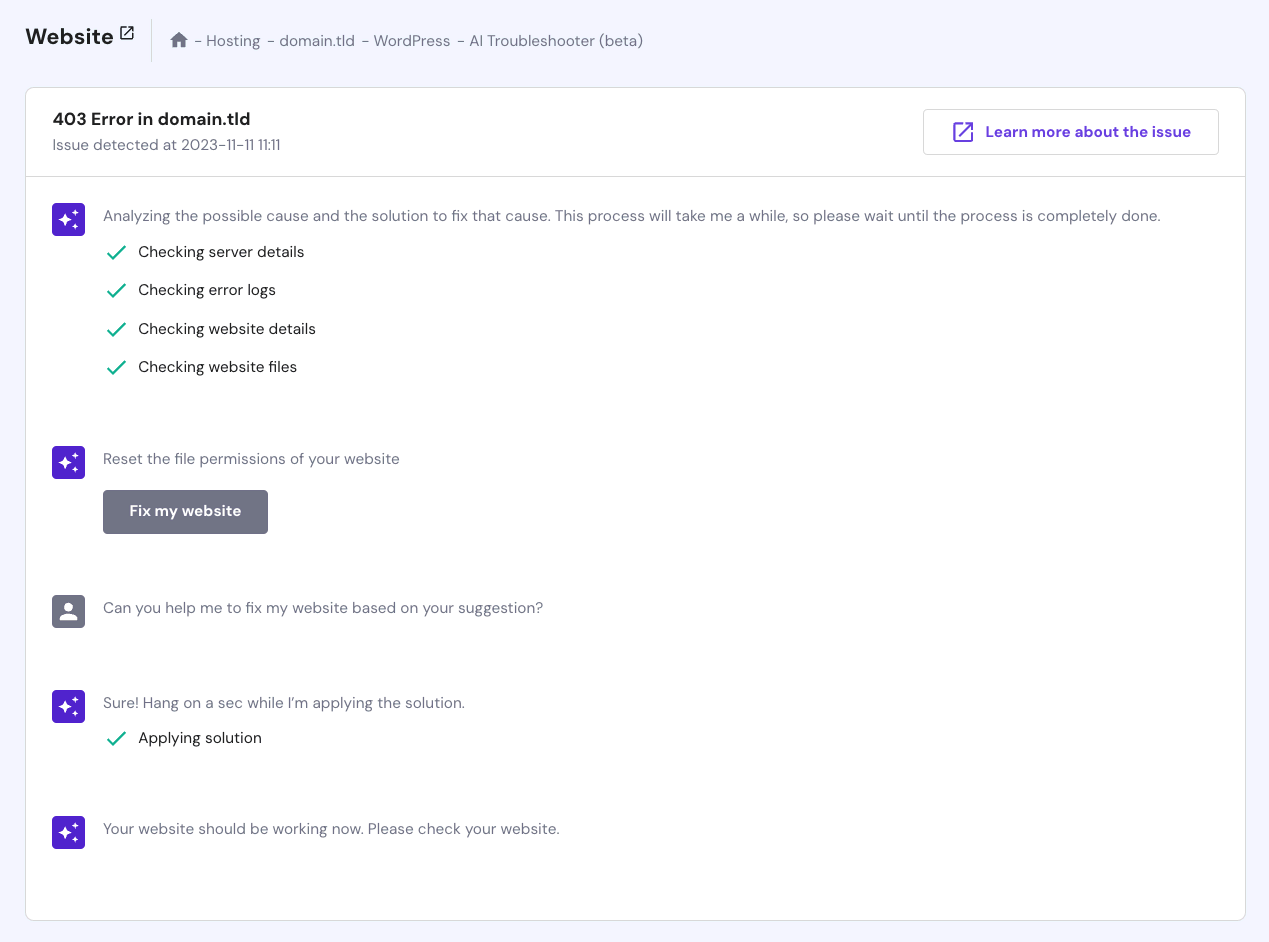 If the fix works and your website is back online, the AI Troubleshooter returns a message that your site is working properly.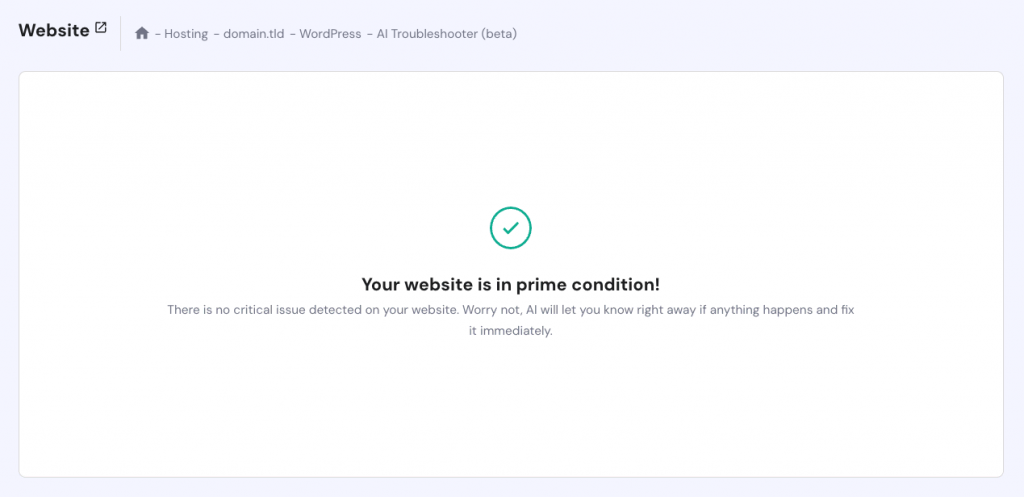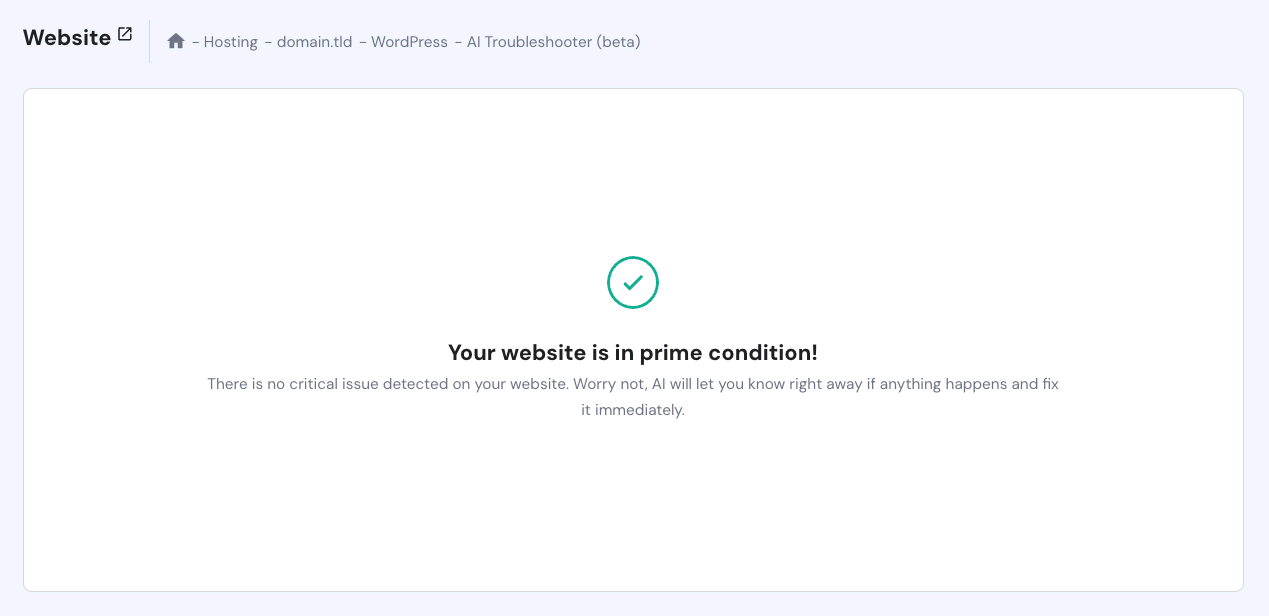 WordPress AI Troubleshooter is still in beta, and we continue to improve the user experience and introduce additional auto-fixes for the root problems.
In most situations, the tool offers one fix you can apply automatically, but this might not be the case in rare instances. For example, as some errors have multiple causes, the AI may need several attempts to fix them.
The AI may also fail to detect rare niche problems. In such cases, the tool should at least identify the root cause without providing an automatic fix.
Worry not – our Customer Success team is always here to help you with any hosting-related questions.
What Are the Errors AI Troubleshooter Can Detect and Fix?
WordPress AI Troubleshooter detects the following errors:
403 Forbidden. This error commonly arises when a user tries to access a website that has restricted access, usually due to permission issues, IP address problems, .htaccess rules, and various server configurations.
404 Not Found. The error typically means that the URL you've requested is incorrect, deleted, or moved elsewhere. It can also point to issues with your hosting service or domain name system configuration settings.
500 Internal Server Error. It indicates that something unexpected went wrong on the web server, potentially due to misconfigurations or issues with the WordPress core, plugins, or themes.
503 Service Unavailable. This error occurs when a web server is temporarily unable to handle a request.
There has been a critical error on this website. This is a WordPress-specific message that appears when a severe issue, often caused by a plugin or theme conflict, disrupts the normal operation of a WordPress site.
Get to know WordPress AI Troubleshooter by logging in to your Members Area, and have your WordPress sites always up and running.
Source link